Browse answers to frequently asked questions or use the search box.
Don't forget that the entire searchable MoneyWorks User Guide is available here, and you can also install and use a PDF copy on your computer by selecting PDF Manual from the Help menu.
Detailed lists of changes in point releases can be found using the following Category search: Change notes for MoneyWorks releases.
Also see New features in MoneyWorks 9 to find out what was new in v9.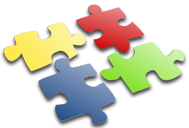 One size doesn't fit all. Fortunately MoneyWorks is extensible and interoperable.
Find out about using MoneyWorks with Daylite CRM and Payroll software.
Migrating data to MoneyWorks
Get information on Moving your accounts from other systems to MoneyWorks here.
Technical Questions?
For more technical questions, especially involving integration with your own systems, please also check the Developer Page