Over 40,000 organisations enjoy the power of MoneyWorks.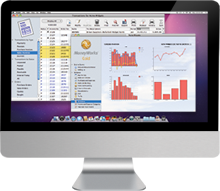 MoneyWorks represents a major step forward in accounting software. It is fully scalable to meet the needs of many businesses without the bloated features, costs and complications of full blown ERP systems—MoneyWorks is the perfect option for those serious about what good accounting can do for business performance.
Unlike traditional accounting software, MoneyWorks is engineered to provide the same processing power normally the reserve of large accounting software, but is also optimised for speed and designed for ease of use. It has you in mind the second you launch it.
Tens of thousands of organisations around the world now benefit from MoneyWorks' elegant design, flexibility and powerful information capabilities. Businesses enjoy features like comprehensive stock and inventory, multi currency, time and job costing and the ability to export all their data at any place and any time.
The desktop application gives you the speed you need along with the flexibility to integrate with other programs such as MS Office, email and FileMaker plus a whole host of cloud based applications like workflow and payroll. You can host your data on your local device, on your private company network or in our secure cloud.

MoneyWorks is supported around the world, with customer service and consultancy support in North America, UK & Europe, South Africa and Asia Pacific.
Moneyworks is developed by Cognito Software Ltd, a privately held company founded in 1986 to help businesses better utilise computing technology. And for almost thirty years we've been doing just that. Our headquarters are in Auckland, New Zealand.
It's been our privilege to have helped tens of thousands of businesses in over 120 countries.
Here's what they say about MoneyWorks:

"The most flexible, reliable and powerful accounting package available for small businesses."
Terry Nicholas, Chartered Accountant and Director, Nicholas Associates, Auckland, New Zealand

"Despite the sophistication and incredible flexibility MoneyWorks is the easiest product to install and operate out of all the SME applications by a country mile!"
Murray Kennedy, Chief Operating Officer, Vinpro, Central Otago, New Zealand