Fast and flexible business information software
MoneyWorks® by Cognito Software has the simplicity and features you want, and the power and flexibility you need. You'll get big business capabilities at a small business price.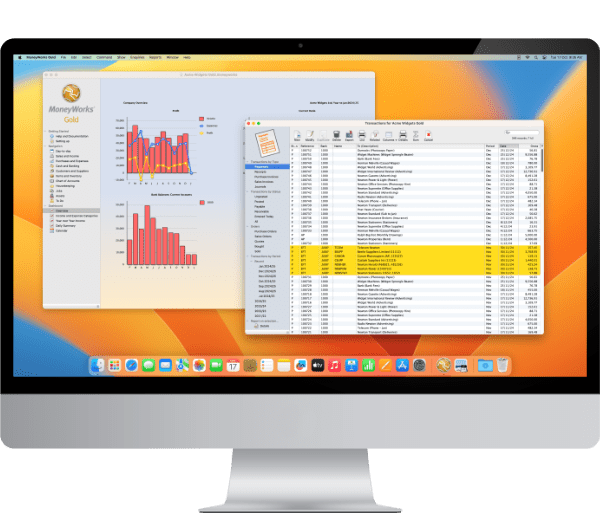 The functionality you need
All the usual accounting stuff: Fully integrated Cashbook, General Ledger, Accounts Receivable, Accounts Payable, Budgeting, Fixed Assets
All the business stuff: Quoting & Order tracking, Job costing and billing, Inventory with batch/serial number tracking over multiple locations, Multi-Currency, bills of material and more
Extensive range of included reports include financial (Profit & Loss, Balance Sheet, Cash Flow etc), general ledger, sales and purchasing, stock and inventory, receivables and payables, dashboard and executive summary. Plus you can create your own.
Comprehensive GST/VAT/HST and Sales Tax tracking and reporting, including online filing in NZ, UK, and Singapore. BAS reporting in Australia
Import bank statements from QIF, CSV, OFX, QBO, or on-line bank feeds (where available)
High performance on the platform of your choice
Self hosted or cloud, Windows or Mac, it's your choice.
Single user desktop or high performance server with up to 100 users
Access your accounts from anywhere with our cloud service or your own self-hosted server
Most "cloud" accounting is slow, and your data is locked up in a system you have no control over. MoneyWorks is fast, and your data is yours forever
No IT staff required. Click to install. Click to update
MoneyWorks runs on any modern Windows or Mac computer
Mix Windows and Mac on your network
Host in your own office for fastest possible performance, or deploy on a cloud server. Or you can use our MoneyWorks Now cloud service
Access logging of who is in your accounts and when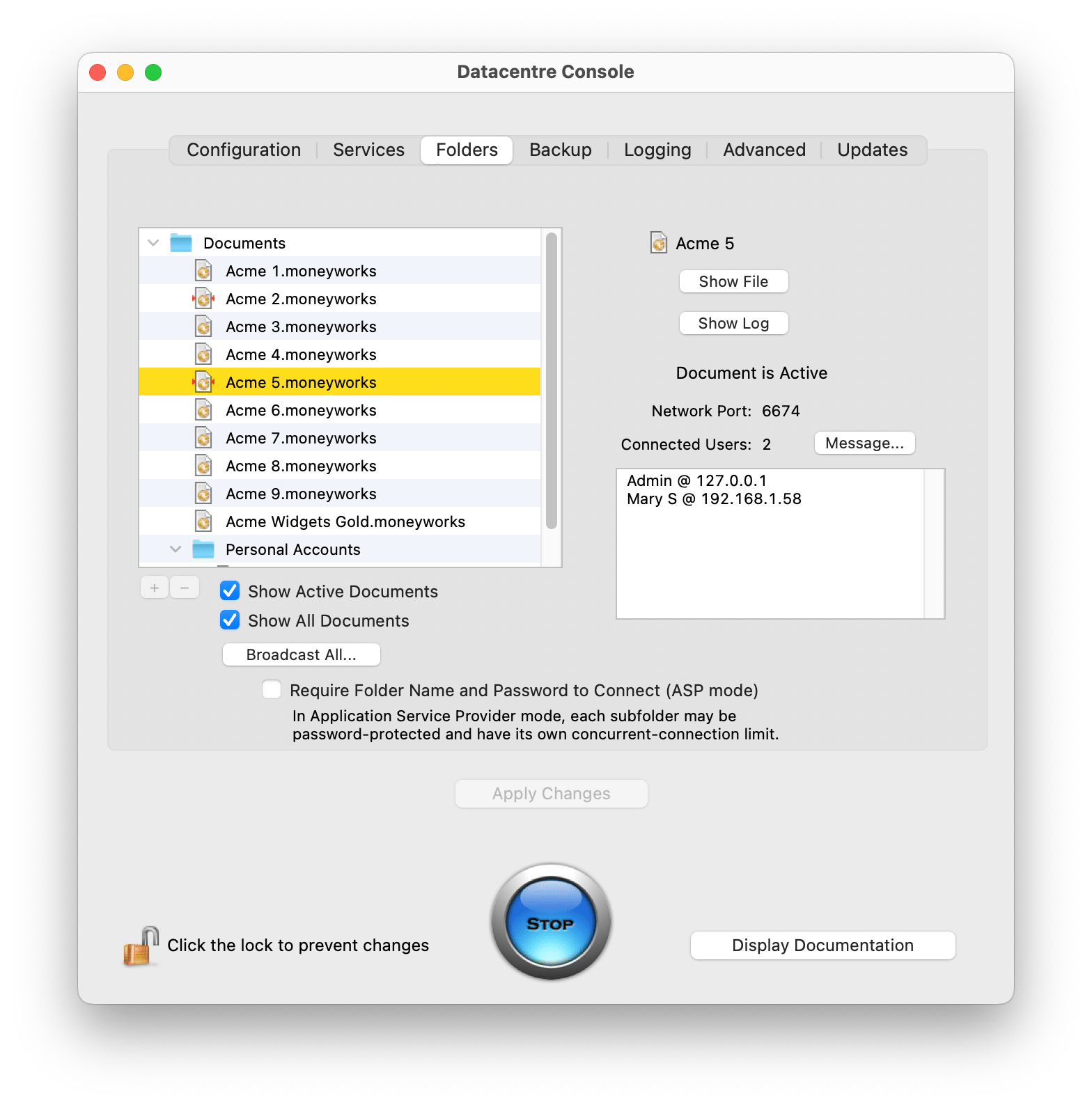 The flexibility you didn't know you needed
Native app runs directly on your computer rather than being stuck in a web browser page
Easily access historical data with on screen lists and powerful search
Use the powerful enquiry screens and analytics to drill down and understand your sales, purchasing and accounting data
Customise list views — display the information you need to see. Add fields from the database or your own calculations and lookups
Powerful multi-level general ledger and cost-centre/departmental subledgers
Protect sensitive data with security levels and user privileges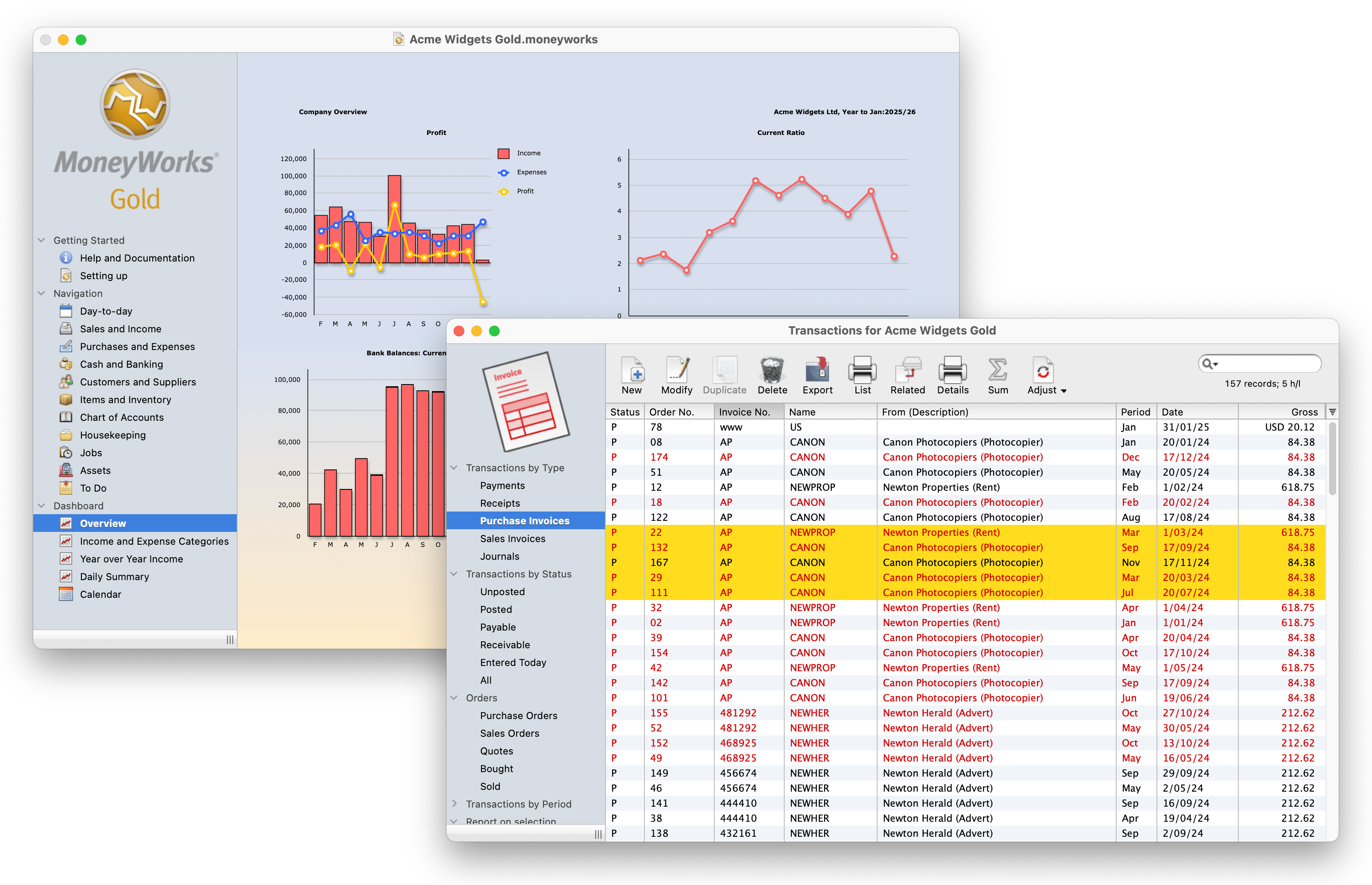 Report writer: Every business is different. The report writer allows you to dig deep not just on your accounting information, but business operational information as well. Output to screen, PDF, print, HTML, Excel, Word, Numbers, Pages, Email, Clipboard
Incredibly flexible output for business forms such as invoices, purchase orders and statements - multi-page, multi-section - PDF - email
Send email directly, or create messages in your desktop mail client (Mail, Outlook etc)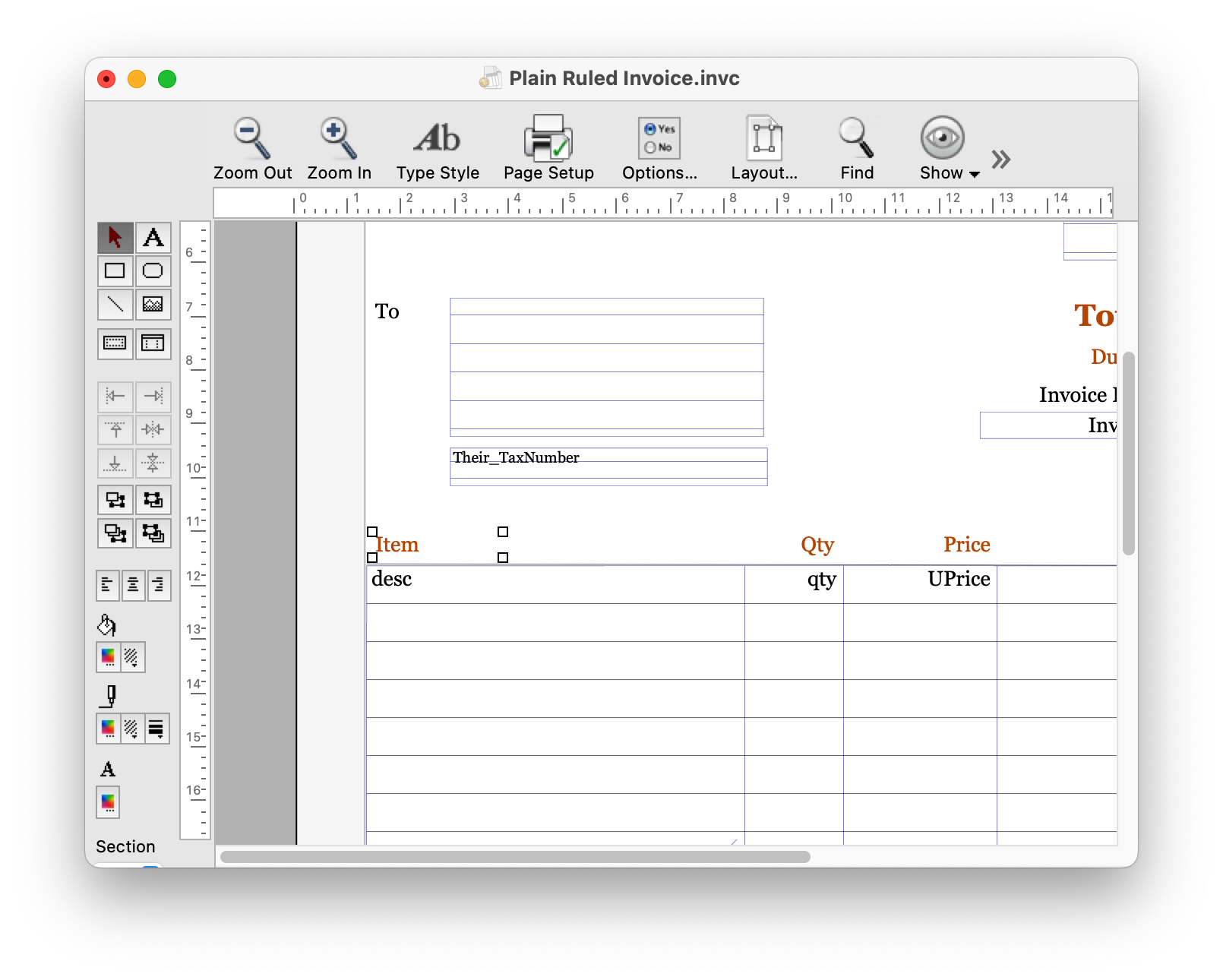 Easy data manipulation. Copy and paste records
Mac 64-bit Intel/Apple Silicon (M1) native for highest performance
Windows Server is 64-bit. MoneyWorks Gold 64 or 32-bit
Database file management. Your database is one MoneyWorks file: easy to back-up, take a copy, clone (for a new company), or roll back changes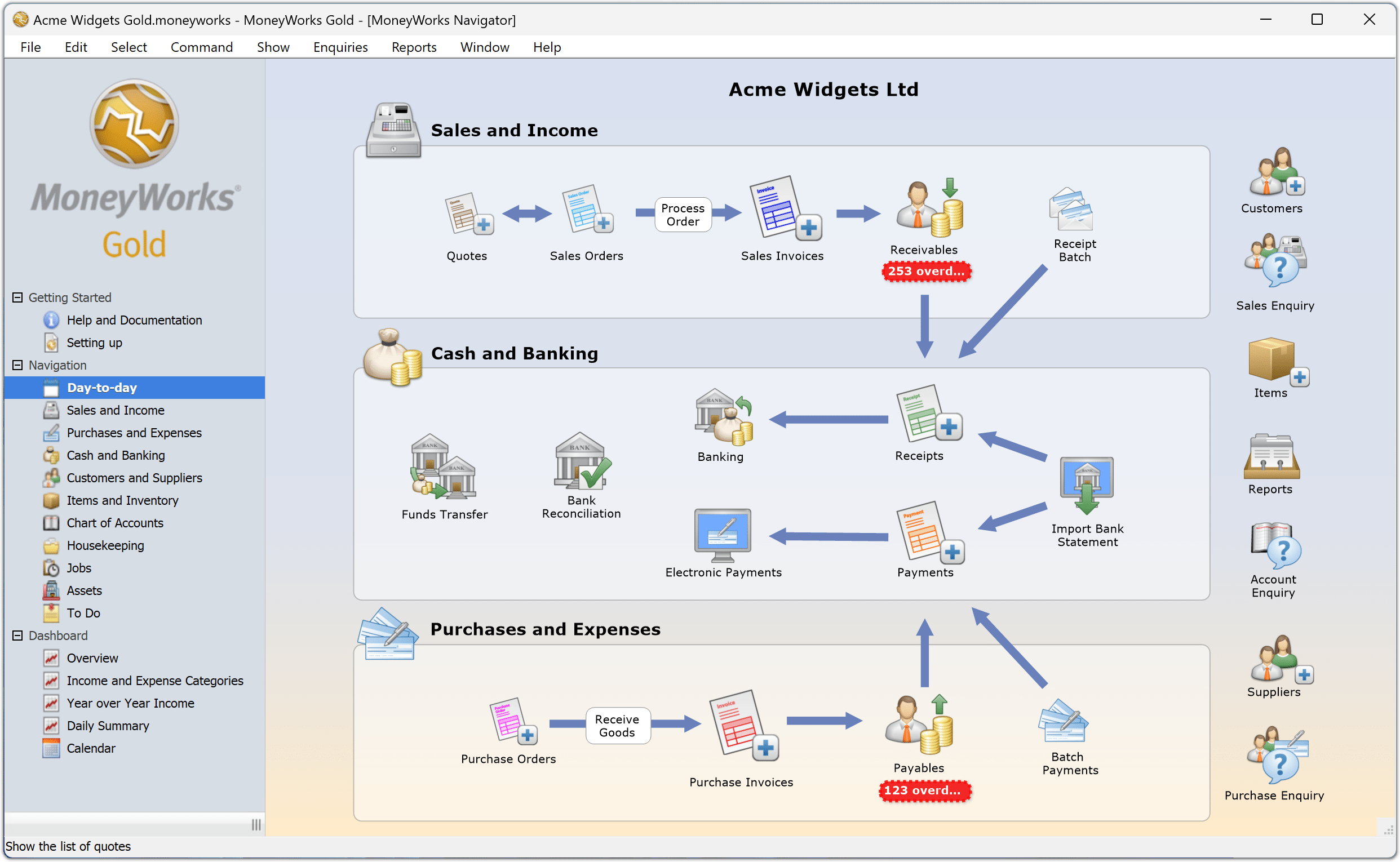 Extend
Not just an app: also a development platform. Extensive customisation via easy-to-learn yet very powerful built-in scripting language
Many built-in functions including local file access, CURL, XML, JSON, SMTP, Regex, database access, and UI manipulation
Customise UI and automate processes
Apply business rules specific to your business
Create custom user interface controls
Add controls/web pages to standard windows
Server REST API for web-based automation
Applescript and Visual Basic support for desktop automation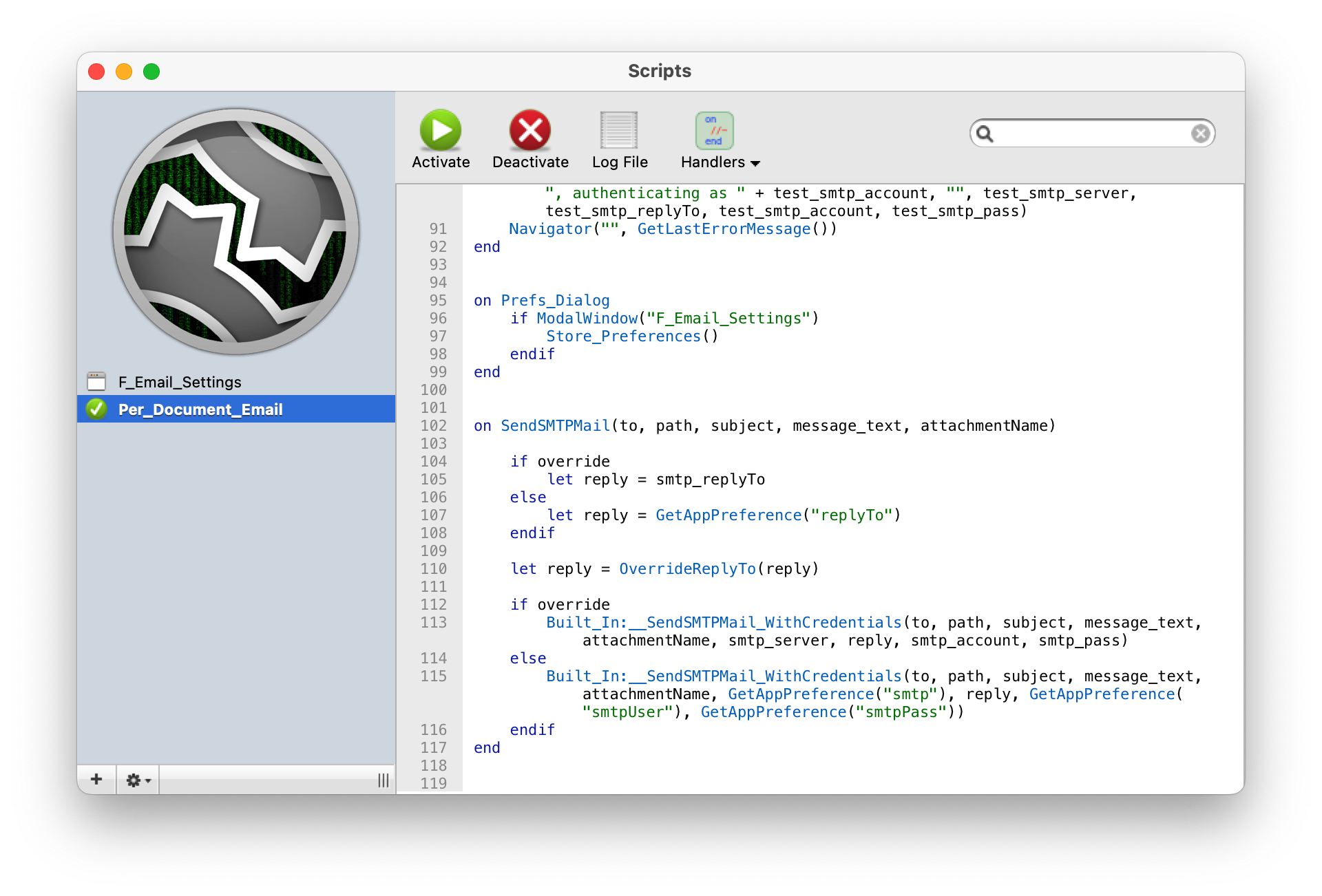 Integrate
Services — Opt-in modules supporting third-party services, allowing you to choose additional features that you find useful, including:

Bank Feeds (currently in NZ and Aus; charges apply)
Invoice Automation. Have pdf supplier invoices and/or customer purchase orders directly entered into MoneyWorks with no re-keying.
e-Invoicing. Send and receive invoices electronically using the international PEPPOL standard (NZ, Aus, UK, Singapore).
eCommerce integrations: BigCommerce, WooCommerce, Shopify

Roll your own integration with extensive interoperability capabilities
Cost-effective
Purchase perpetual license with first year of updates included free. Low-cost maintenance option to keep you up to date thereafter
Alternatively, subscribe monthly for no up-front cost. Get all updates included. Cloud subscription also available
Multi-company at no extra cost. Some accounting software will make you pay again and again for every entity you set up. MoneyWorks allows unlimited entities.
Entry-level options if you don't yet need everything that MoneyWorks Gold has to offer
So much more: see the full feature set for more information on functionality and see License Options for pricing information.