Edit
Startup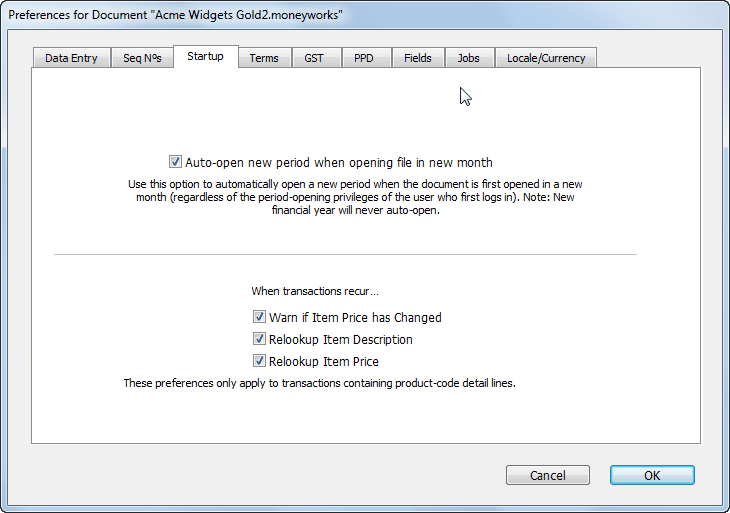 Use this panel to control the behaviour of MoneyWorks when your document is opened (e.g. how transactions recur).
Auto-open new period when opening file in new month: If on, a new period will be opened when the MoneyWorks file is first opened after the end of the previous period (regardless of the user's privilege settings), provided it is no longer than 30 days after the end of the old period
Warn if Product Price has Changed Gives a warning when the document is opened if the product price recorded in a recurring transaction differs from the current selling price recorded in the product file.
Relookup Product Description Replaces the detail line description in the new transaction with the current product name. Turn this off if you want to retain the descriptions in the original transaction.
Relookup Product Price Updates the sell prices in the transactions if they have changed (and hence change the value of the transaction.)
Terms
This panel allows you to specify payment terms and credit hold/overdue payment warnings.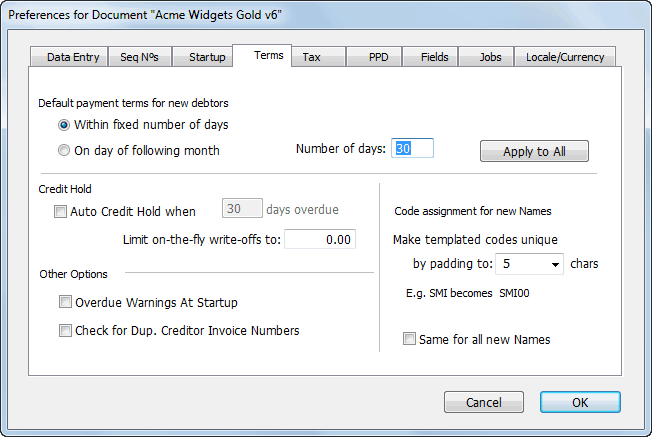 Default Payment Terms Set payment terms for debtors in this section. The payment terms specified here are used to specify the default terms for new debtors. You can override these terms for individual debtors—see Debtor Terms.
Apply to All: This sets the payment terms for all existing debtors to the currently specified default terms. Use this only if you need to change the terms for all your debtors.
Auto Credit Hold Check this option if you would like an automatic credit hold facility for overdue debtors. Enter the number of days overdue after which the credit hold takes place.
With this option is checked, MoneyWorks will warn you when you enter an invoice for a debtor if they are over their credit limit already, or if they have invoices that are overdue. You will be given the option of putting the invoice on hold.
Limit write-off amount to In MoneyWorks Gold only, you can set the maximum amount that can be written-off (using the Write-off check-box) when receipting against invoice—see Write Off Option.
Overdue Warnings at Startup Turn this on if you want to be alerted of any overdue debtors or creditors when you open your MoneyWorks document
Check for Dup. Creditor Invoice Numbers Turn this option on if you want MoneyWorks to check to see if an invoice with the same number has already been entered for the current creditor. The check is done when you accept the transaction by clicking OK or Next.
Make templated codes unique Specify here how many digits you want to append to a template code when it is created to make it unique.
Same for all new names Turn this option on if you want to automatically assign a unique code when creating a new Name.
For example, with this option on (and the padding set to six), if you create a new code for Mr Smith (SMI), it will automatically pad to SMI001. The next Smith (or Smithers) will automatically pad to SMI002 etc.