Edit
Fields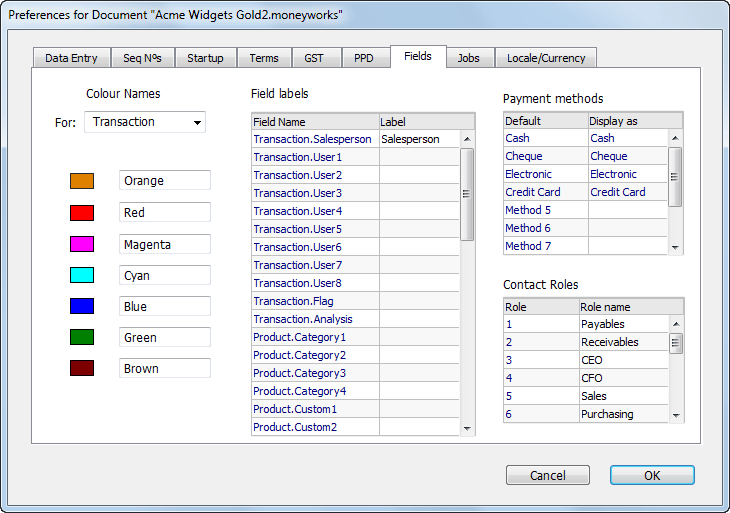 Use this to customise the labels on your transaction fields, payment methods, contact roles and colours in MoneyWorks.
Note: The lists used with the Find and Sort commands (and in the forms editor) will use the internal field name, not the user defined value.
Note: The first four payment methods in MoneyWorks have special behaviour and cannot be altered.
Note: In MoneyWorks 8, it is possible to have different naming schemes for the colours in each table in MoneyWorks. For example, red transactions might be labelled "Urgent", and red customers as "Bad".
Jobs
The job control preferences determine what level of job control is used.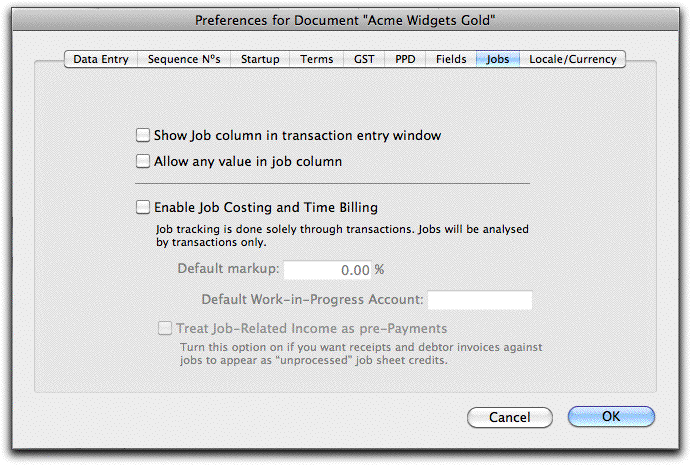 Show Job column in transaction entry window If set, an additional column, the Job column, will be displayed in the detail line area of the transaction entry screen. This column can be used to enter a job code to tag that detail line as being associated with a job.

The additional job column will appear in all transactions except journals. It is not possible to associate a journal with a job.
Allow any value in job column Normally when you type an entry into the job column of a transactions detail line MoneyWorks will check to see that the entry refers to a valid job. If the Allow any value in job column option is set, you will be able to type any value into the job column. This option and the Enable Job Costing and Time Billing option are mutually exclusive.
Enable Job Costing and Time Billing Only available in MoneyWorks Gold. When set this enables the full time billing system. For a discussion on this of these see Job Preferences.
Treat Job-Related Income as Pre-Payments Turning on this option will cause job related income transactions to be transferred as pending (instead of processed) job sheet items. Turn this on if you create invoices (or receipts) coded to the job before work on the job has been done (e.g. a deposit or pre-payment on a job), and this income needs to be offset against subsequent work.1
---
1 In MoneyWorks 6 and earlier this option was set in the Posting confirmation window. ↩